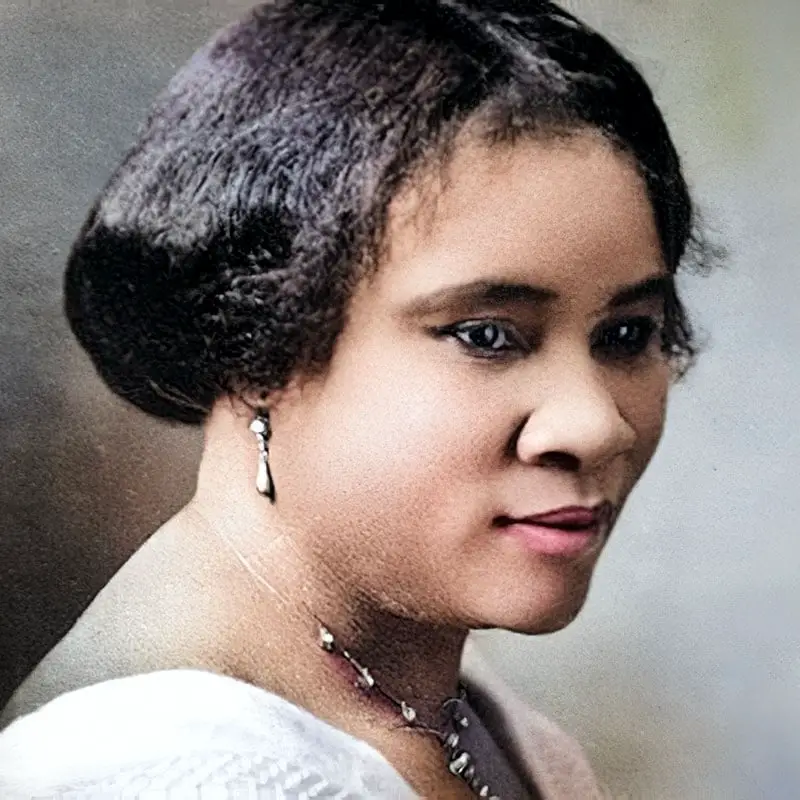 An African American entrepreneur, philanthropist, and political and social activist. She founded a hair and beauty supply company aimed at Black consumers and was heralded by the the Guinness Book of World Records as the first female self-made millionaire in America.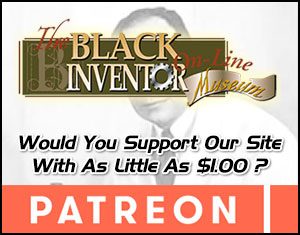 Madam C. J. Walker was born on December 23, 1867 in Delta, Louisiana, the daughter of Owen and Minerva Breedlove. Her parents were former slaves working as sharecroppers and both died when Sarah was a child. As a result, Sarah was forced to move from one household to another. At age seven, she moved in with her sister Louvina and her husband. After suffering abuse from Louvina's husband, Sarah ran away and married Moses McWilliams when she was 14 years old. In 1885, she gave birth to their daughter Lelia. Two years later, Moses was murdered by a White lynch mob.
After this tragedy, Sarah moved with her daughter to St. Louis, Missouri where she worked as a cook and housecleaner. Unfortunately, all of the stress and hardship had begun to take its toll on her and she found her hair falling out. She tried several products which claimed would help her condition but to no avail. At this point Sarah had a dream in which a "big Black man appeared to me and told me what to mix up for my hair. Some of the remedy was grown in Africa, but I sent for it, put it on my scalp, and in a few weeks my hair was coming in faster than it had ever fallen out." After she shared her formula with some friends and found it successful for them as well, she realized that there were almost no hair products available for Blacks. She therefore decided to go into business, selling hair products to Black women.
In 1905 Sarah's brother died and she moved to Denver, Colorado to live with her sister-in-law. When she arrived in Denver she had only $2.00 in her pocket yet she worked during the day as a cook in order to finance her part time business. At this point she met Charles Joseph "C.J." Walker, a newspaperman with an innate ability for marketing. She married Walker on January 4, 1906 and the couple set up the "Madam CJ Walker Manufacturing Company" and began placing advertisements in Black newspapers throughout the United States. Although they proved a successful team, they disagreed as to how much the company should grow. After years of struggling and suffering, Sarah wanted her company to grow immensely and divorced him in order to devote herself to the business (he stayed on as a sales agent for the company.). She continued on with many of the ideas he had passed on to her, including going door-to-door to sell the products. Her hard work paid off and in 1906 she brought her daughter Lelia, a recent college graduate, in to manage the company.
While Lelia ran much of the company, Sarah traveled across the country and throughout Latin America and the Caribbean marketing the products and developing new ones. She also sought to bring more women into the company, desiring to empower them and give them a way of rising above the constraints set by a male dominated society.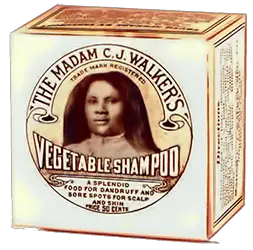 In 1908, Sarah started Lelia College in Pittsburgh, Pennsylvania, which trained women to sell her products door-to-door and by 1910 had more than 1,000 sales agents. In that year, she moved the company's headquarters to Indianapolis, Indiana and soon the company grew beyond anyone's expectations. By 1914, the woman who only nine years earlier had only $2.00 to her name was now worth more than one million dollars. Her products ranged from hair conditioners and facial creams to hot combs specially made for the hair of Black consumers.
After her early suffering and poverty plagued existence, Sarah McWilliams had looked for a way out and as Madam C.J. Walker was able to purchase a 34 room mansion built off of the Hudson River in New York. When she died on May 25, 1919, she was mourned throughout the Black community as a pioneer and a Black industrialist. For many women, White and Black, however, she had served as an inspiration and a role model.
Videos About Madam C.J. Walker
From Dreams Comes Success
Walker remembered that the formula for her hair grower came to her in a dream: "God answered my prayer, for one night I had a dream, and in that dream a big Black man appeared to me and told me what to mix up for my hair. Some of the remedy was grown in Africa, but I sent for it, mixed it, put it on my scalp, and in a few weeks my hair was coming in faster than it had ever fallen out. I tried it on my friends; it helped them. I made up my mind I would begin to sell it."
Search for More Info about Madam C.J. Walker
:
Custom Search